Back to Stone Age with the Big Blox video slot

There are some mysteries about ancient people that we don't understand even now. Their life is mostly so obscure to us, that we can only guess how they were spending the days, what were their beliefs and why did they build their strange monuments. The Big Blox video slot is going to make it a bit more clear for you. It'll tell you about some ancient idols and totems that were made by the Stone Age people.

The game screen will be your window to the forest shrine, full of strange monuments. They're made of wood and stone and look like ancestors' spirits that came to life. You'll probably never know who they really are, but there is no doubt they'll award you with as many prizes as you wish. Just be brave to visit the shrine and to explore its mysteries.
Big Blox Video Review
Payouts in the Big Blox online game

As soon as you launch the Big Blox slot machine, you'll see various symbols that are situated on the game field. These images have the ability to form a number of combinations, which will help you to receive virtual coins. There are a lot of ways to do that. Actually, you have 243 ways to form one of them. The more symbols you obtain, the higher wins you receive. As for their value in coins, it depends on concrete image. The interconnection between the symbol and its value is displayed in the following list: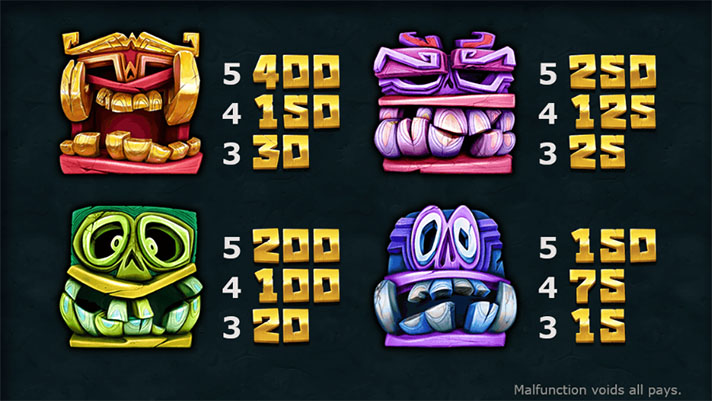 1. Red idol – up to 400.
2. Purple totem – up to 250.
3. Green idol – up to 200.
4. Blue totem – up to 150.
5. Hearts symbol – up to 70.
6. Spades image – up to 60.
7. Clubs symbol – up to 50.
8. Diamonds image – up to 40.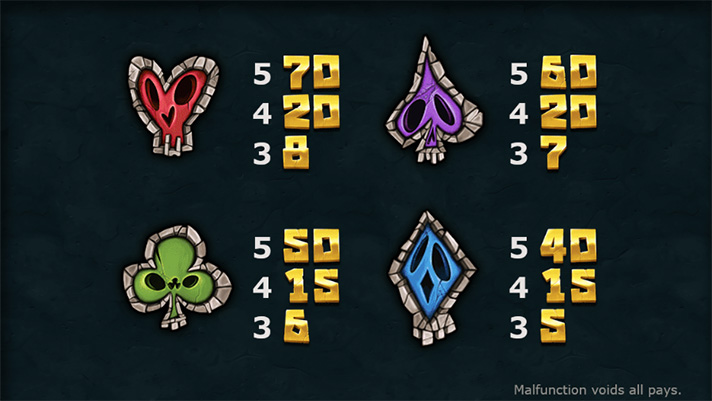 There is also one special symbol in the Big Blox video slot. It's Wild image, which looks like a golden idol. Its only feature is to substitute other symbols in any winning combinations. That might be very helpful, especially when there is a lack of only one image in the consecutive row.

If you don't think much of prizes level in the game, then you should definitely know that their possible amount is far bigger than it's displayed in the mentioned list. In the Big Blox slot not only the horizontal number of images does matter, but the vertical too. To make it clear, we can take an example when you've received 3 symbols in a row and every column has 2 images. In this case, your total win can be calculated in the next way: initial coin amount*(2*2*2). The sum in brackets is the multiplier that you'll receive.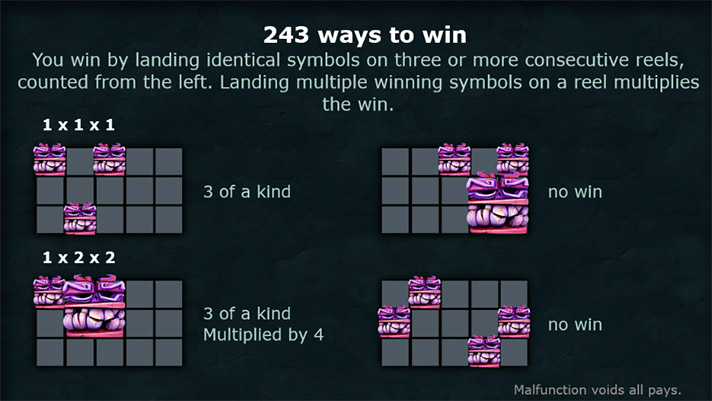 As you can see, the winning potential of the Big Blox online game is much higher than you can expect. If we look at the slot's statistics, the biggest payout here can reach the level of 3888 bet sizes. This might be a good reason for players to try the Big Blox slot for real money.

The big block feature

There is one thing in the Big Blox video slot that will help you to obtain the highest possible wins. It's called big block feature, which probably is the one that became the inspiration for the game title. This bonus creates a mega symbol on the rows that can be as big as the whole game field. Usually, these blocks are square and have a size of 4 images and they appear every spin. The Wild symbol can also create a block, but this structure won't be more than 4 reels long. According to the game rules, Wilds can't appear on the 1st real.

The big block feature is your key to big and super big prizes. Since there is a special way to get multipliers in the slot, you can receive prizes that are 5, 10 or even more times bigger than the regular payout. Let's take the best combination of spades images as an example. Its regular value is 60 coins. Presuming that 3 of 5 symbols are the part of 3x3 block, your award in this case will be the following: 60*(3*3*3) = 60*27 = 1620 coins. The numeral 27 is your total multiplier in this win.

The Big Blox video slot main characteristics

Every online slot has a number of key parameters. Some of them you can see on the bottom panel of the main screen, others can be found in the additional game info. If we put together all the main characteristics, they'll form the following list:

1. 243 ways to obtain a certain payout.
2. 5 virtual reels with automatic start feature.
3. Total bet, fixed at the level of 25 coins.
4. Special big block feature.
5. Coin value range between 0.01 and 5 EUR.
6. 96.2 % RTP level.
7. Max coin win of 97200 virtual monetary units.
8. Volatility level of 36 points.
9. Designed for PC, Android and iOS.
10. Works with Internet Explorer, Google Chrome and Mozilla Firefox.
11. Released on the 24th of August 2016.
12. Developed by Yggdrasil.

The Big Blox video slot is the game that is focused on big wins. Every block is a potential treasury of coins, so you just have to be a bit patient. After some time, you'll definitely receive a huge one. So, a super big win is just waiting for you. As for gaming experience, the Big Blox online slot is the game that supports its special atmosphere spin after spin. It seems like you're back in the Stone Age, surrounded by strange idols in some mystical shrine. Both high payouts and a perfect gaming experience are the best motivation to try your luck in gambling for real money.