Golden Fish Tank Slot Review
The underwater world is full of bright colors and extraordinary inhabitants. However, fishes are among the first things you usually think of when talking about different water spaces. There are a lot of various species in the world's seas and deep oceans, but the Golden fish is one of the most famous among them. Not only because it's a traditional type of such "pets" in home aquariums, but also it's due to the fact that the fish is a hero of traditional fairy tales in some countries. In these stories the golden underwater inhabitant often has magical abilities. One of them is to make any wish true, so it's not a surprise that the fish became the main character of the new Yggdrasil's slot. Now it can award you with as many coins as you can imagine in the Golden Fish Tank online game.
Golden Fish Tank Video Review
Animation, graphics and controls in the slot
The Golden Fish Tank slot will meet you with a beautiful game screen as soon as you launch it. You'll see the sand bottom of some pond, covered with stones, seaweed and starfishes. The sun rays reach the bottom of the water basin and the air bubbles make their way to the surface. In the water space you'll notice various funny fishes that are calmly floating in the deep. They move a bit from time to time and blink with their huge eyes. All it looks like some diving session.

As for main controls in the slot, they are situated in the lower end of it. There is no special board for them, so it seems like they are also floating in the water. In the mentioned area you'll find such elements as coin value, max bet, special golden bet, spin button and automatic play. The tiny windows that display your current cash balance, total bet, received wins and selected lines can be found in the same place. For players, who need more info about the slot, there is a special plus button in the left. It'll provide you with all necessary data.
Symbols and coin prizes in the slot
The Golden Fish Tank online game allows you to collect different underwater inhabitants and receive prizes for them. You'll be awarded with a concrete amount of virtual coins for each one that you'll catch. All the prizes that you have a chance to receive are displayed in the next list: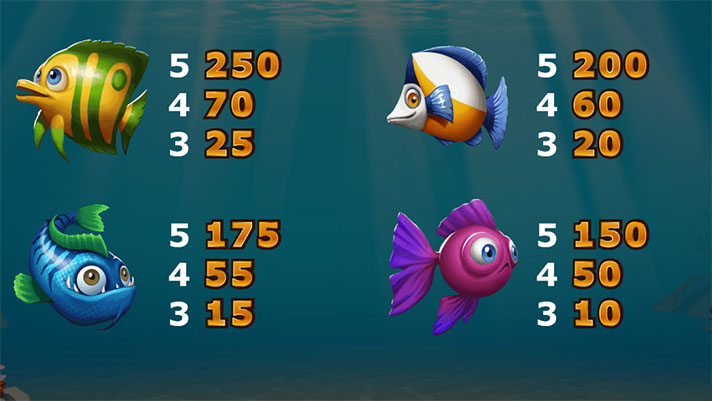 1. Green-yellow fish – up to 250.
2. Orange-white fish with blue fins – up to 200.
3. Toothy fish with one mustache – up to 175.
4. Funny purple fish – up to 150.
5. Red hearts symbol – up to 75.
6. Purple spades image – up to 60.
7. Green clubs symbol – up to 50.
8. Aquamarine diamonds image – up to 50.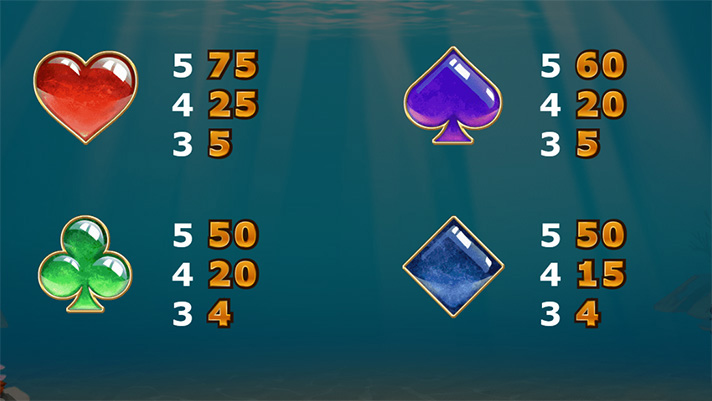 The game also has additional Wild symbol. Its ability is to substitute regular valuable pictures in order to form a combination on the line. It looks just like the golden title, when it appears on the reels.
Free spin mode in the slot

Scatter images are among the most valued among the gamblers. It is so in the Golden Fish Tank slot too. Here these symbols are the key to additional free game mode. They can trigger 6, 8 or even 10 spins with a special pick feature, which allows you to choose 3, 4 or 5 bonuses before the start.

Whenever you get at list 3 images of the golden fish, the bonus round will begin. You'll see the bottom of the deep pond, which is covered by clams' shells and sunken amphora. If you open them, you'll receive some bonuses for the free spin mode. Their list is the following:

1. From 2 to 4 additional spins.
2. High stacks of random fish symbol.
3. One or two Wilds, that will appear every spin.
4. A special 2x multiplier to the received wins.
5. One fish image becomes Wild.
6. A special sticky Wild, that is active the whole round.

If you want to get as many features as possible, you should definitely activate a special golden bet mode. For only 5 coins per each spin it will give you an additional pick before the free game round. So, the maximum amount of bonuses will reach the level of 6 features.
The slot' main characteristics
The Golden Fish Tank video slot has a number of essential parameters that directly influence the gaming process. The full list of characteristics will be the following:

1. 20 lines that are active constantly.
2. 5 virtual reels with the automatic spin feature.
3. Fixed total bet of 20 coins.
4. Coin value diapason between 0.01 and 5 EUR.
5. Special golden bet feature.
6. 96,8 % theoretical RTP index.
7. Volatility level of 58 points (Medium-High).
8. Max possible win amount of 50000 coins.
9. Available on PC, Android and iOS.
10. Works with Google Chrome, Mozilla Firefox and Internet Explorer.
11. Released on the 1st of February 2016.
12. Designed by the Yggdrasil company.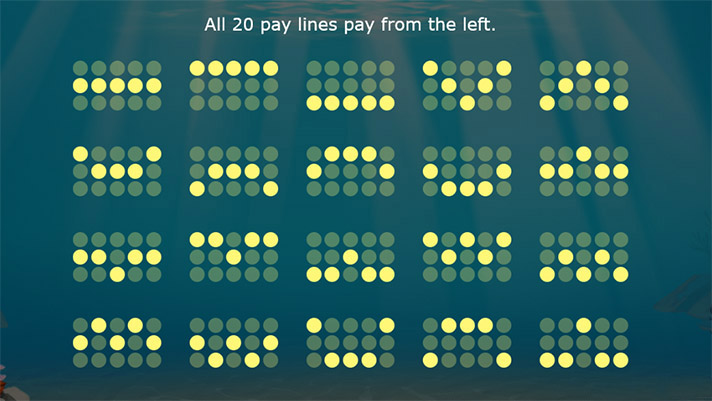 The Golden Fish Tank slot is one of the games about the underwater world and its inhabitants. It has a perfect design with many funny elements. As for the level of prizes in the online slot, it is on the rather high level here. Regular symbols are not so valuable in the online game, but you have a special free spin mode. This round can award you with tons of virtual coins. You just have to choose bonus features and begin this profitable game mode. And not forget to activate golden bet feature to obtain the biggest possible wins in the video slot.